Purpose designed by us and with many of the elements imported from the USA, our super clean, healthy and comfortable apartments are worlds away from traditional kennels. Glass fronts, uPVC walls, and acoustic ceilings give dogs a quieter environment, an unobstructed outlook and a familiar home-like feel. Climate control at a constant 19 degrees year round ensures an optimum temperature, soft and hygienic veterinary bedding and right size beds keep dogs very cosy, and anti-slip flooring gives them complete security underfoot.
Take a look at our apartment choices:
Luxury Apartment 118ft2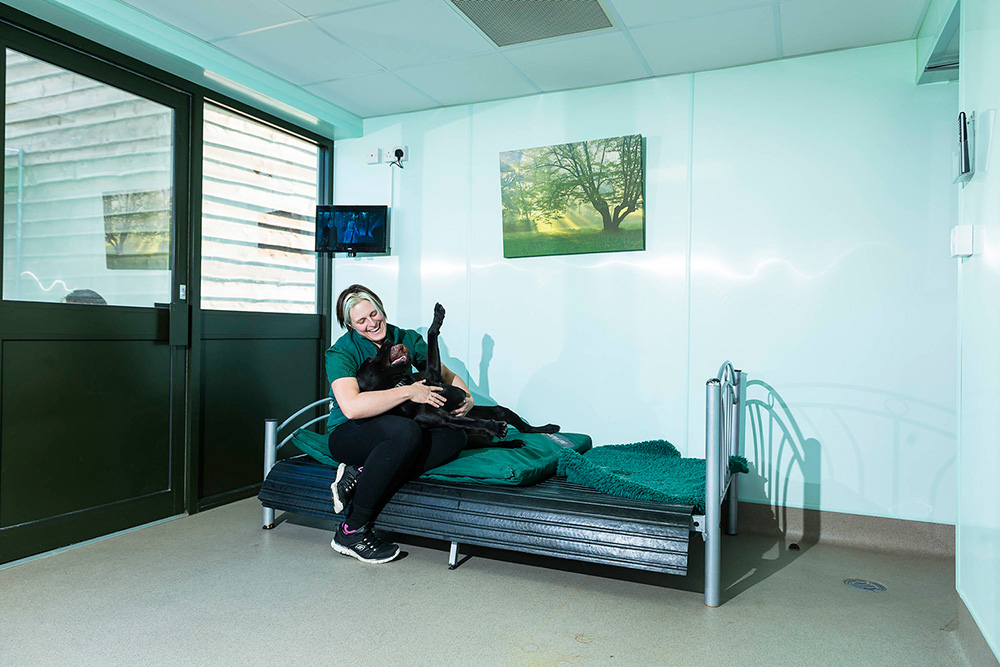 The tranquil, deluxe-size apartment is decorated in the style of a child's bedroom and has a single bed with orthopaedic mattress. It includes a television and DVD player (bring your pet's favourites) and privacy curtains for the evening. A stay here includes our Golden Heart service.
Premier Apartment 50ft2

A large and quiet apartment with wonderful country views.
Premier Plus Apartment 100ft2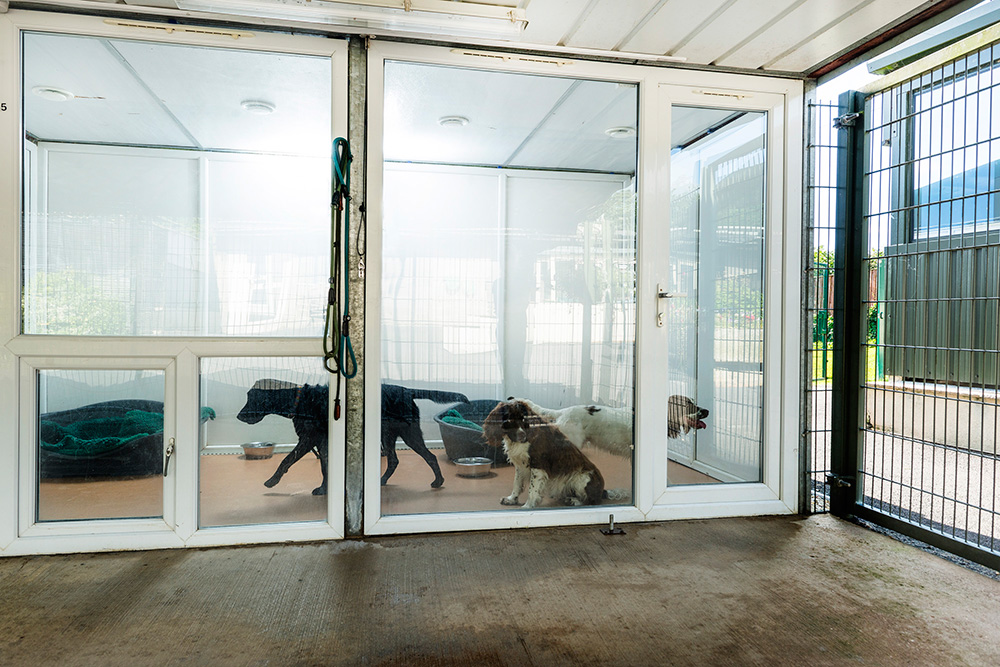 Double the size of the Premier Apartment, this is ideal for larger breed family groups. It has a separate interconnected bedroom/ bathroom, with a pop hatch providing access to both sides 24 hours a day.
Rainbow Suite 60ft2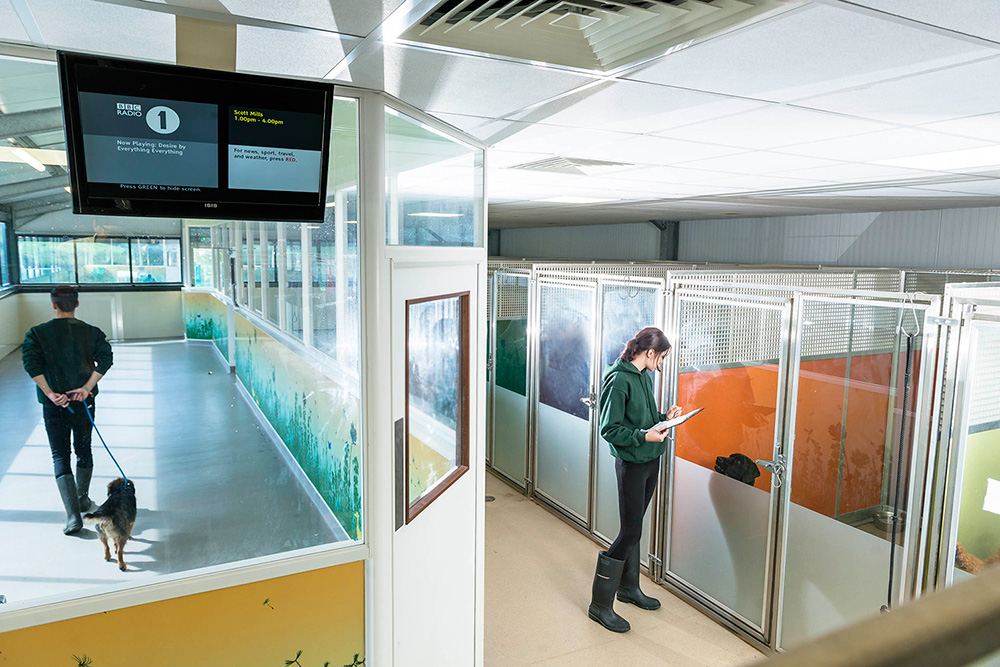 These brightly coloured apartments look out onto a wide walkway and have an exclusive spacious indoor run. All apartments have a view of a wall mounted television.
Retirement Village 40ft2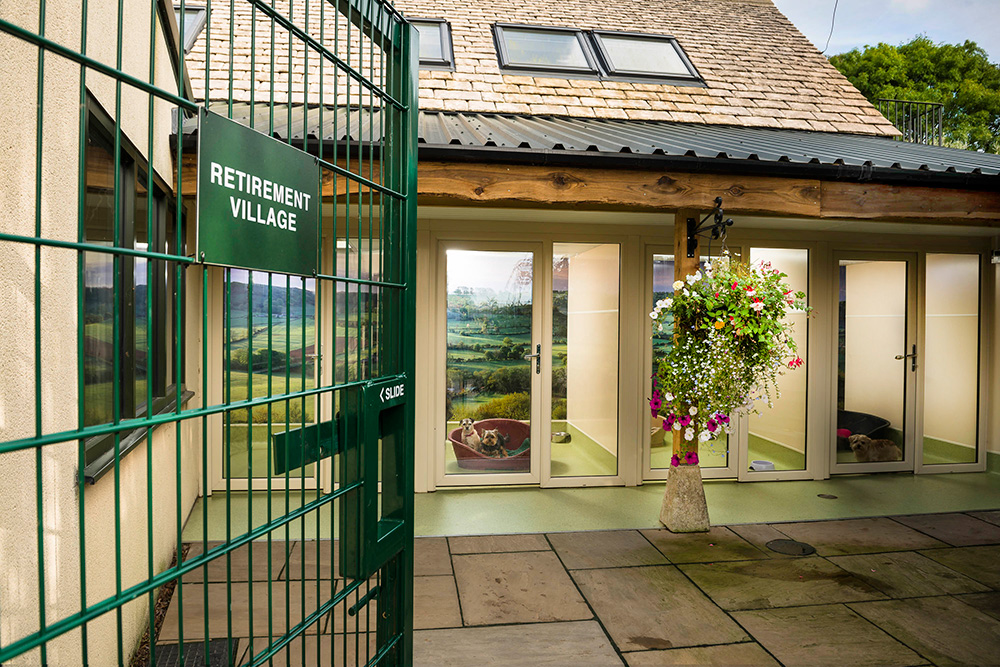 Set away from other dogs and apartments, our Retirement Village provides a quiet and relaxed atmosphere for older pets. The apartments adjoin the family home and look onto a private tranquil garden.
We place huge emphasis on dogs' emotional and physical wellbeing. We provide fantastic care as standard as well as an extensive choice of extras. We make sure that we fit with your dog's feeding habits, likes, dislikes and routines, and give you a full report when you collect. Along with daily play, cuddles and health checks, our expansive site with paddock and off-lead enclosures, provides plenty of secure space for healthy daily exercise.
We have staff on site 24 hours a day and the vets we use visit round the clock.
Take a look at the care we provide:
Standard care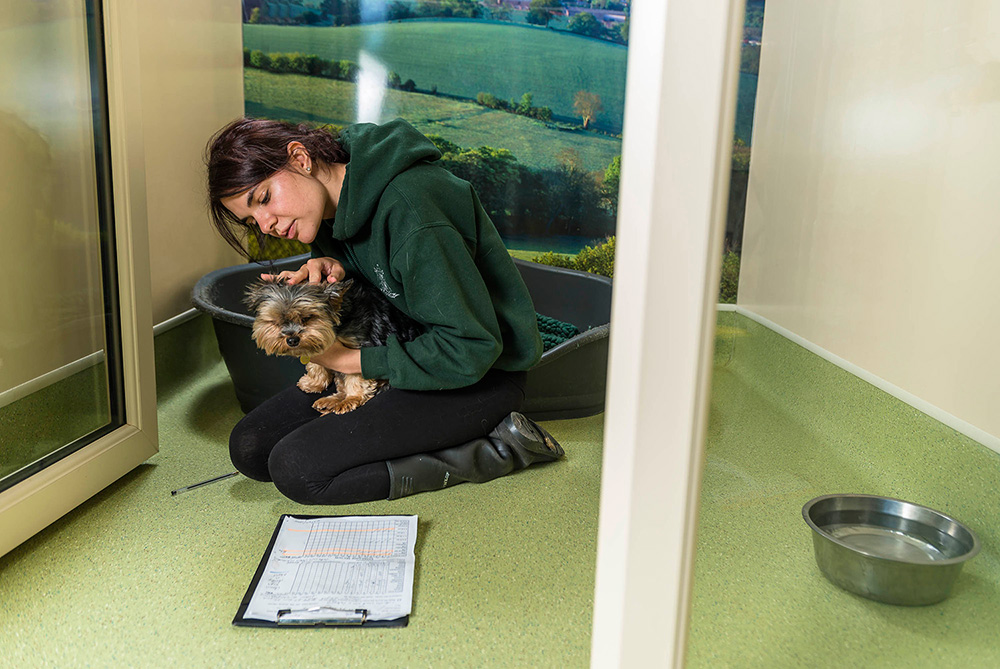 Our standard level of care is anything but standard. It comprises:
A daily recorded 14-point nose to tail health check, including eyes, ears, paws and teeth, to ensure that your dog stays in tip top condition and any health concerns can be dealt with immediately
A daily weight check to ensure that your dog isn't gaining or losing too much weight. If this happens, we'll adjust the diet accordingly
Daily grooming to keep your dog's coat in great condition. Dogs with long coats may need additional sessions
A minimum of three daily exercise / walk sessions in our paddock or off-lead enclosures
Two meals a day, with feeding monitored to make sure that your dog is eating well
Cuddles and play
When you come to pick up your dog, we'll give you a copy of our recorded health checks, discuss them with you and let you know if we have noticed or addressed anything during the stay.
Extra care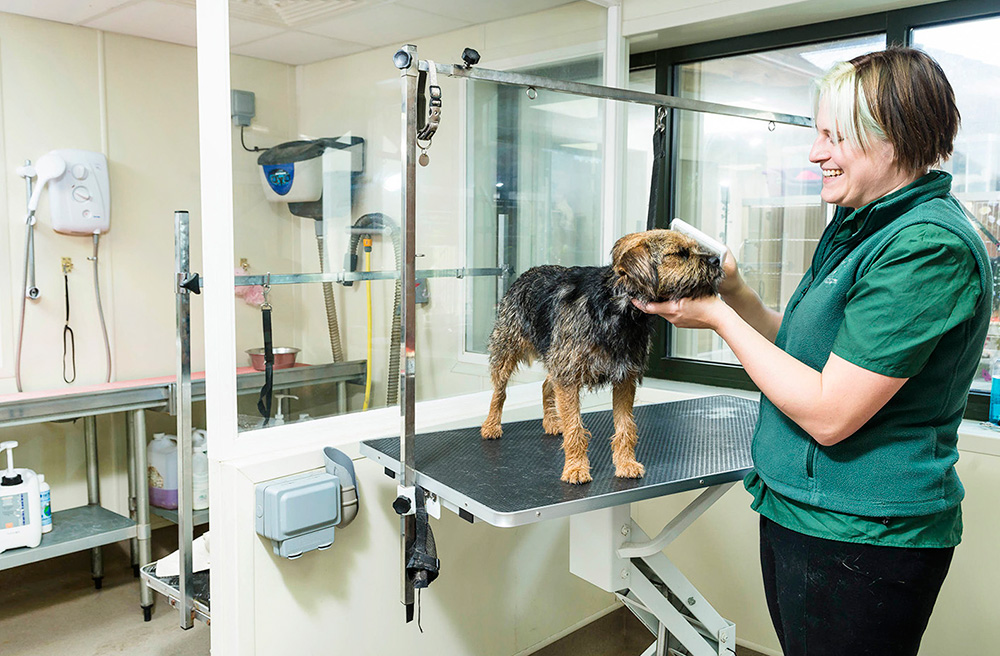 In addition to our standard care, you can choose one or more of the following extra sessions to suit your dog:
Walk on the paddock
Off-lead run/play in our secure enclosure
Play session with toys
Cuddle/fuss session
Additional grooming
Golden Heart
A full 40 minutes a day of activities or sessions in addition to our standard care. Choose from the extra care options to suit your dog.
Meals
We offer a wide range of food and can mix and match to suit your dog:
Burns Original
Burns Light
Chappie Complete
Alpha
Butchers Tin
Chappie Tin
Tripe
If your dog is on a special diet or your preference is not on our list, we're happy for you to bring in their food.
Special Aids
We have a range of special items, aids and equipment to meet specific needs and ensure that our guests are as comfortable and happy as possible. These include:
Special mattresses such as memory foam and orthopaedic
Raised non-tip water and feed bowls for giant breeds